For all new clients or client sites, it is highly recommended that Cytracom tests the consistency of the internet connection before installing phones. Cytracom will then be able to troubleshoot and resolve issues prior to customers using phones if they see an issue with connectivity.
Request a monitor here- continue reading below for more information on what should be provided to Cytracom.
The majority of call quality issues stem from the ISP either dropping packets or introducing jitter on the line. Cytracom will run reports on the connectivity which can be given to the ISP to help them identify the issue.
Here is an example of a report run from a good or average connection:
In this case the overall graph is mostly flat despite the minor bumps, these are natural dips that can occur from a location that is far from the origination point of the network monitors. The servers sending the ICMP test packets are from several different points across the United States. There can be minor spikes such as this San Francisco spike at 11:20am. As long as there are no more than a couple every 24hrs, and the latency does not exceed 200ms the graph can overall be considered a pass for VoIP services.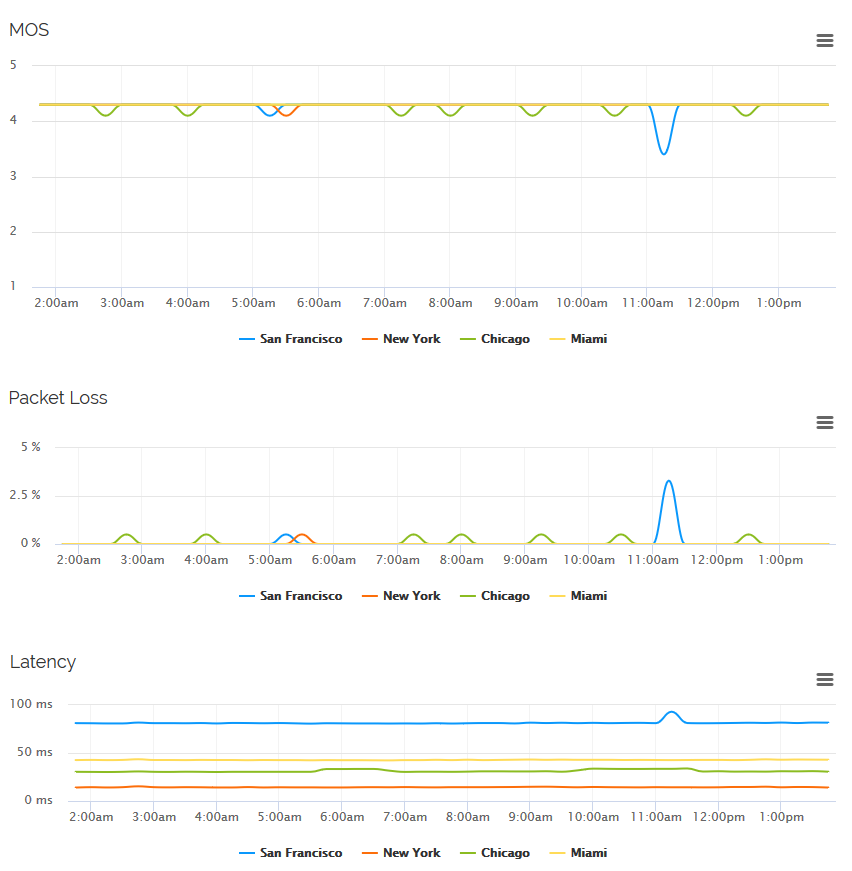 Here is an example of a report run from a poor connection: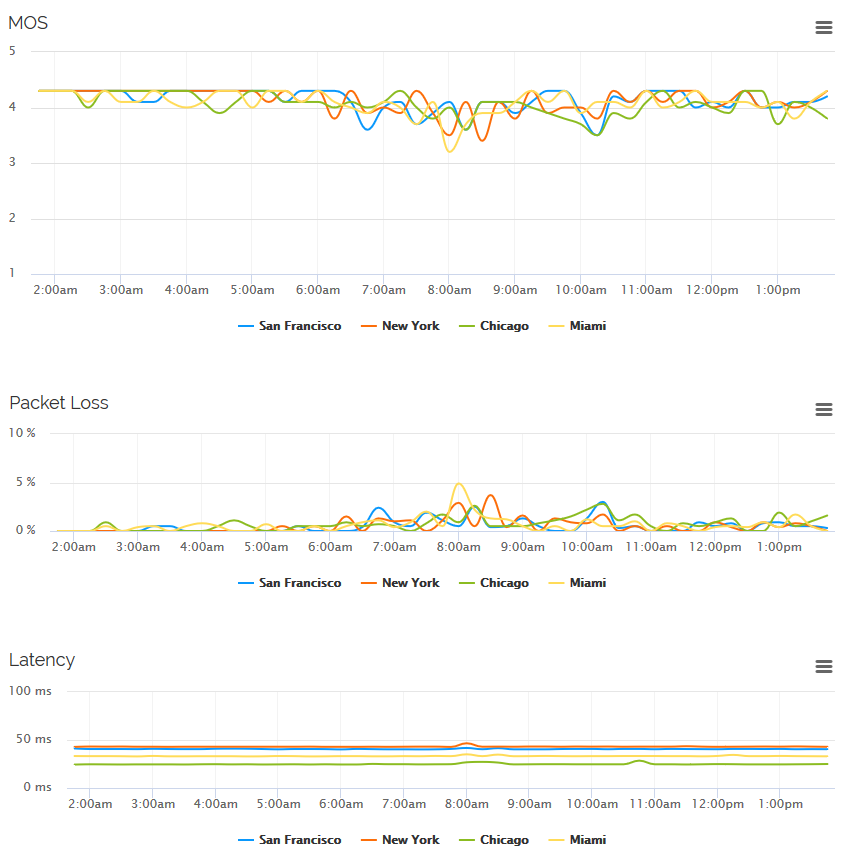 Note:

1st Chart- The MOS (Mean Opinion Score) shows the overall voice quality.

2nd and 3rd Chart- Show packet loss and latency

When there is an increase in packet loss and latency, the MOS score lowers, indicating voice quality issues.

A MOS score of:

4.0 or higher indicates good voice quality
3.5-4 indicates satisfactory voice quality
Below 3.5 is unacceptable voice quality
1.0 is 100% packet loss and most likely a result of the firewall or router blocking test traffic.
 Latency needs to be under 200ms. Above that, there will be noticeable pauses and callers may start talking over each other. Phones using this connection would experience varying amounts of dropped audio, usually only a fraction of a second at a time. The goal commonly used in designing networks to support VoIP is the target specified by the ITU standard G.114 which states that 150 ms of one-way, end-to-end delay is needed at the minimum for a connection to have observed good quality.
On occasion, an ISP will not recognize a problem even with the report. It can be requested to speak to a higher level tech, or Cytracom can speak to the ISP on behalf of the client.
In order to monitor a connection, the public IP address of that connection will be used. Cytracom can often monitor to the public gateway as well. On a static connection, the gateway address translates to the modem on site. This can confirm whether any detected issues are on the ISP side or firewall related.
Many of these common issues can be corrected by working with the ISP.
Keyword: monitor, test,VoIP, MOS, network, network monitor, latency