Cytracom has released a new version of our Desktop application, that includes a soft phone, so that you may make and receive calls from your computer without a physical desk phone to aid in supporting remote workers.

How to access Cytracom Desktop
Overview
Cytracom Desktop lets you talk, text, fax—all from a single pane of glass. Start a dedicated conversation in a private room. Text a client or include them in a group chat. Best of all—customers can text you first, just as they would text anyone else. You can learn more about the Business Messaging terminology here.

Prerequisites/Requirements
A new non-admin user must be setup as a user by their Cytracom admin. This person can easily invite users in one step from their Desktop, or manually add them instead as explained here: Adding a New User -- The admin must assign an extension to the user during this process.
For Business Messaging specifically, a C2 Service Plan is required- all other features are available to all customers.
How to access Cytracom Desktop
Download the Desktop App here.
Or, Cytracom Desktop can be accessed via a Chrome browser at: https://desktop.cytracom.net/
Logging in
Login to the app with your Cytracom credentials- email address or phone number/extension and password
Once logged in, you will see interoffice contacts on your left
How to enable notifications
Click on the lock icon next to the URL
Choose which notifications to enable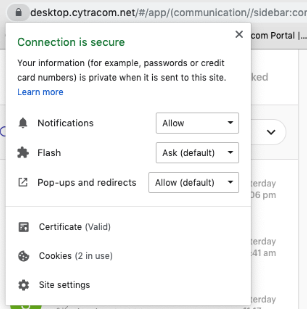 Preferences
Select the user's profile avatar in the top left to see options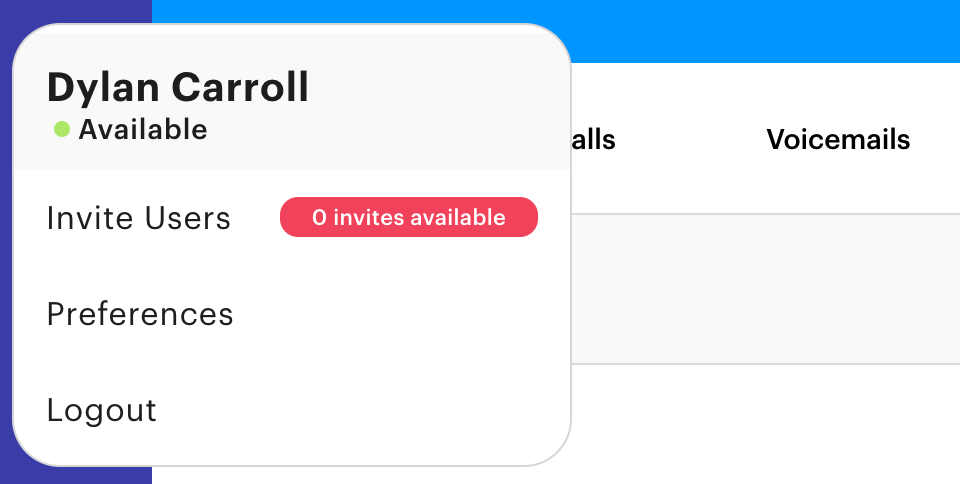 Click on Preferences
Choose your calling strategy
Change the avatar/profile picture here if desired
A profile picture can be uploaded here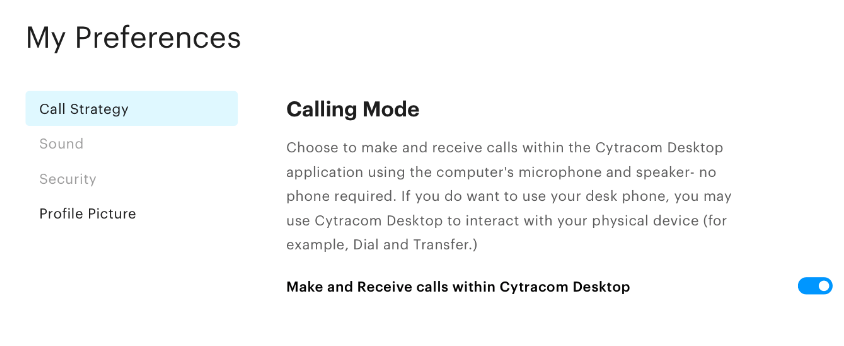 Desktop Icons
The illuminated icons on the left side will allow you to navigate between voice communication, messaging, call center queues, and faxing.

Status Icons:
Avatar - Contact's initial or uploaded picture
Availability - halo around avatar indicates user online in Cytracom app
Phone status

Display Bar

Contacts - listing of interoffice contacts by extension
Calls - listing of entire call history displayed by default, but may be filtered by call type

Voicemails - listing of voicemails with audio playback. Transcription will be displayed for users on the C2 plan when this option has been enabled in the system.
Placing a call
Dial pad
If using your computer as a softphone, use of a headset is always recommended for optimal audio quality
The dial pad at the bottom left will allow a number to be manually entered or pasted. In addition, an interoffice contact may be searched from the dial pad by typing, e.g. "Ada" may return "Adam" and his extension number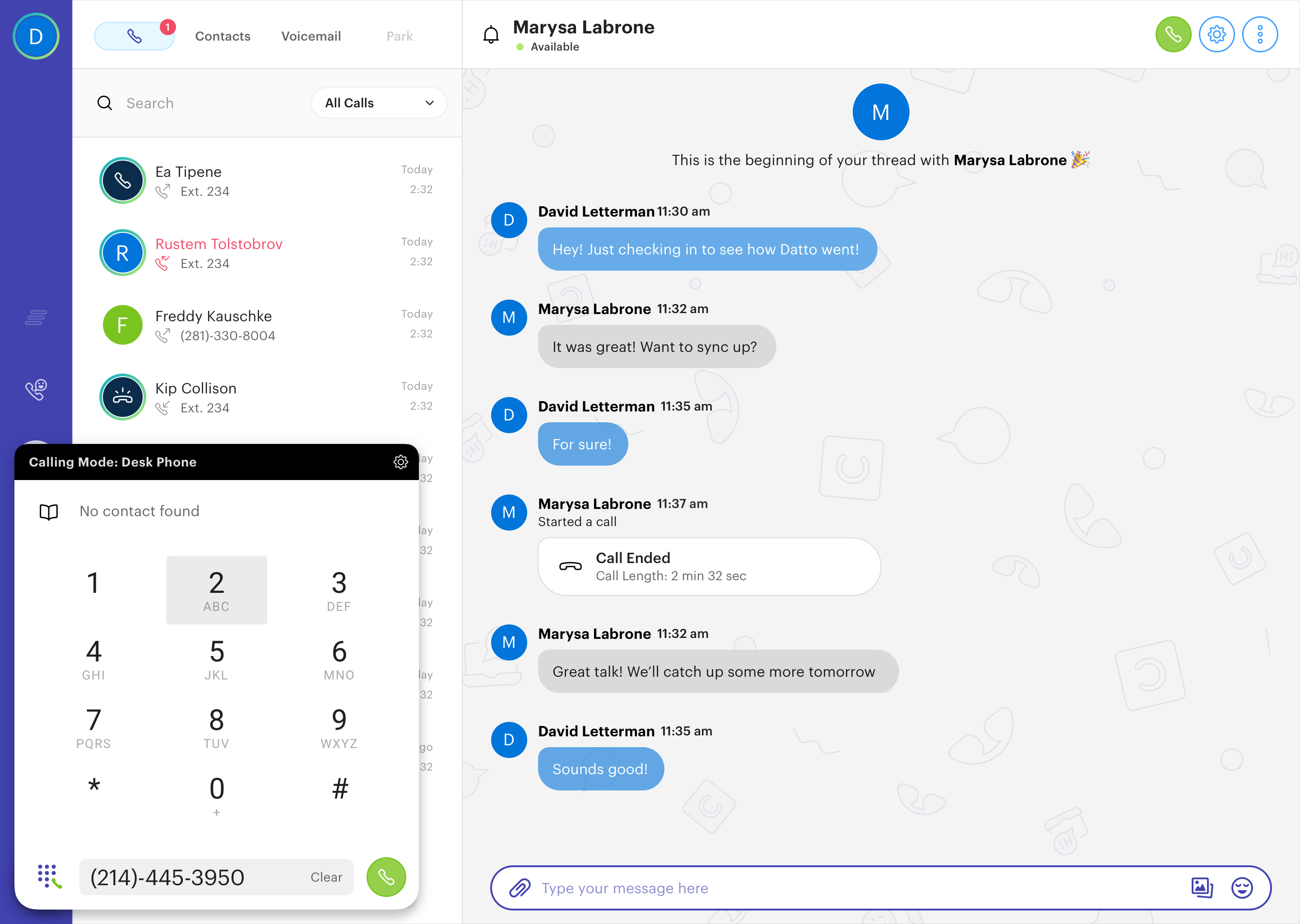 Placing a call to a contact
Select the phone icon to the right of the contact name, or at the top right of a contact's profile to initiate a call
The icon will display a ringing symbol and the dialpad calling indicator in the lower left will display the active call
Expand an Active Call
While on an active call, click on the dialpad indicator to expand the active call information to full screen. This will give you further options such as the ability to input a selection when prompted by an automated system, adding a call, mute, place on hold, and end the call.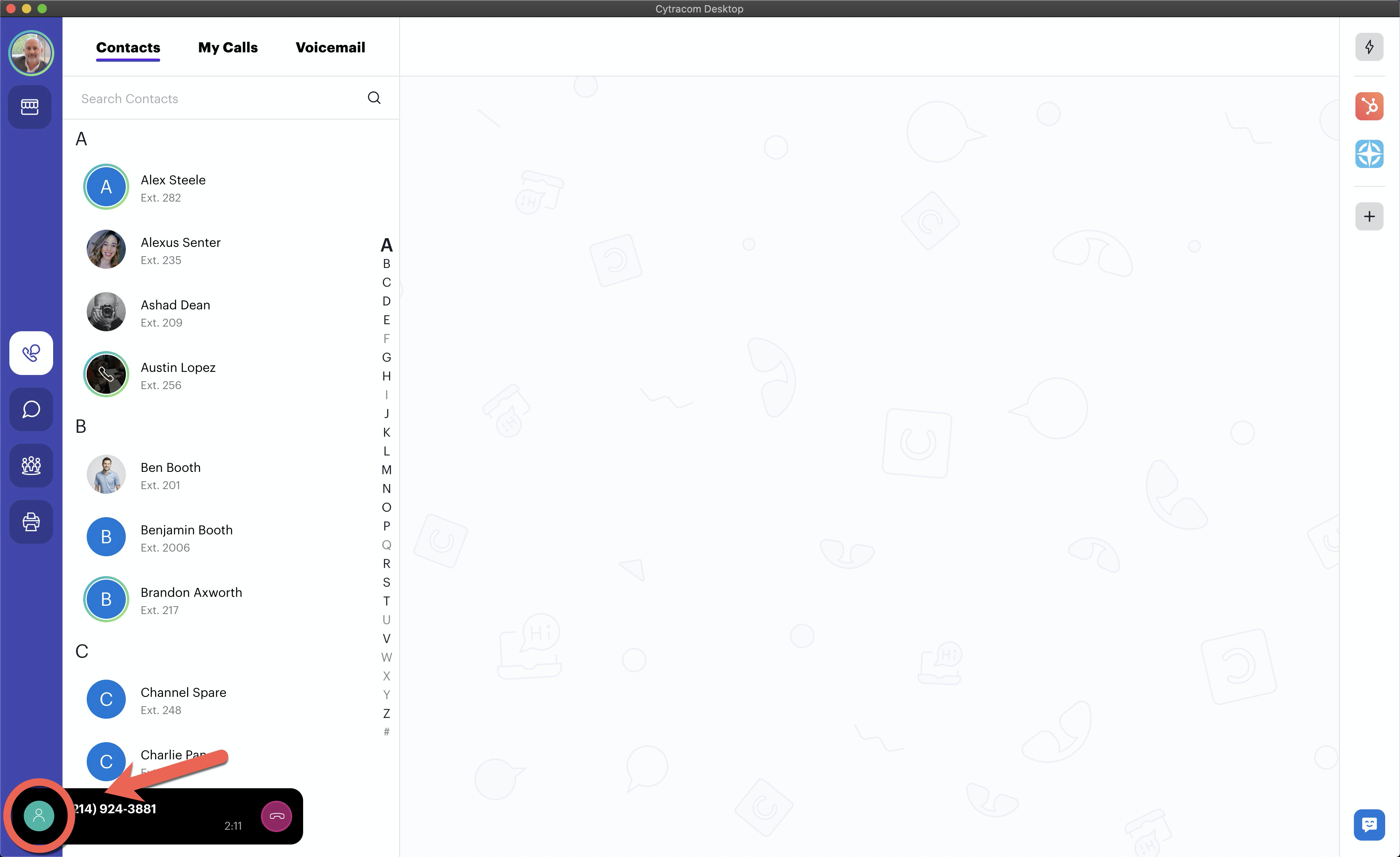 Transferring a call
While on an active call, expand the active call as explained above
Click transfer
Choose the contact you would like to transfer to
The call will immediately transfer to the chosen destination
Messaging
Rooms

- an ongoing topic of conversation that allows the owner to add or remove members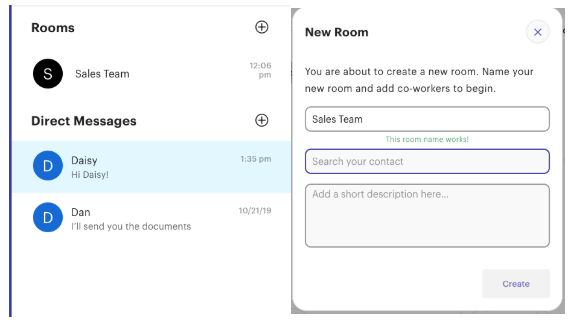 The members within each conversation are added when the conversation is created. For Rooms, the members are selected from the contact list.
Room options:
Select the vertical ellipsis to see members in the room and add additional members
Select the settings widget to mute or leave the room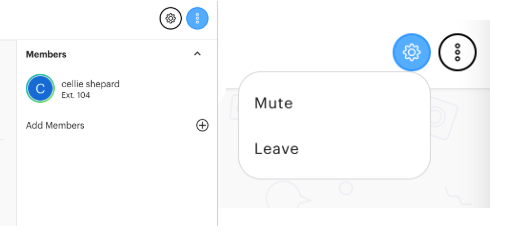 Direct Messages

-the members are either selected from the contact list, or by simply entering a phone number for a desired recipient that is using SMS
Blue avatars/bubbles indicates the person is using Cytracom Apps

Green avatars/bubbles indicates the person is using SMS
To start or continue a message with a contact:
Select the contact

Select the blue message icon at the top right
Direct message options:
Select the green phone icon to call the contact
Select the blue settings widget to mute or hide the direct message
Select the vertical ellipsis to see the members of the direct message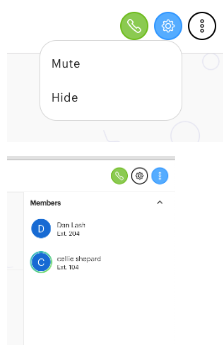 Queues
Click on the queue icon, below messaging, to view the call center queues. Note that this only applies if you have added call center agents to your Cytracom service. The queues you have setup will be displayed as tiles.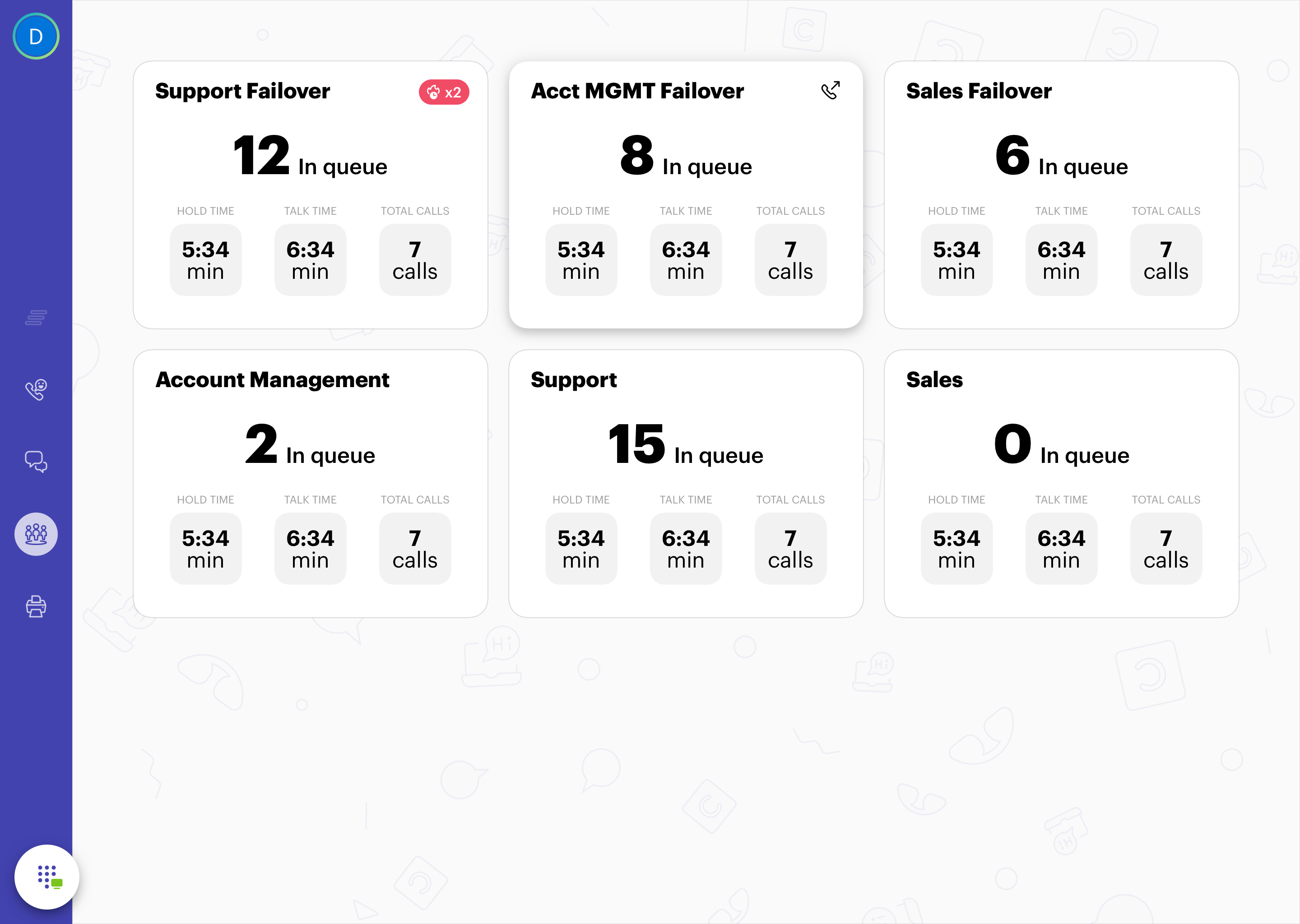 Click on any tile to expand that queue and view more details. You can view the real time queue summary, agent status, and the queue history. The red bubble around a given caller's wait time indicates that the call has exceeded the average hold or average talk time for that queue.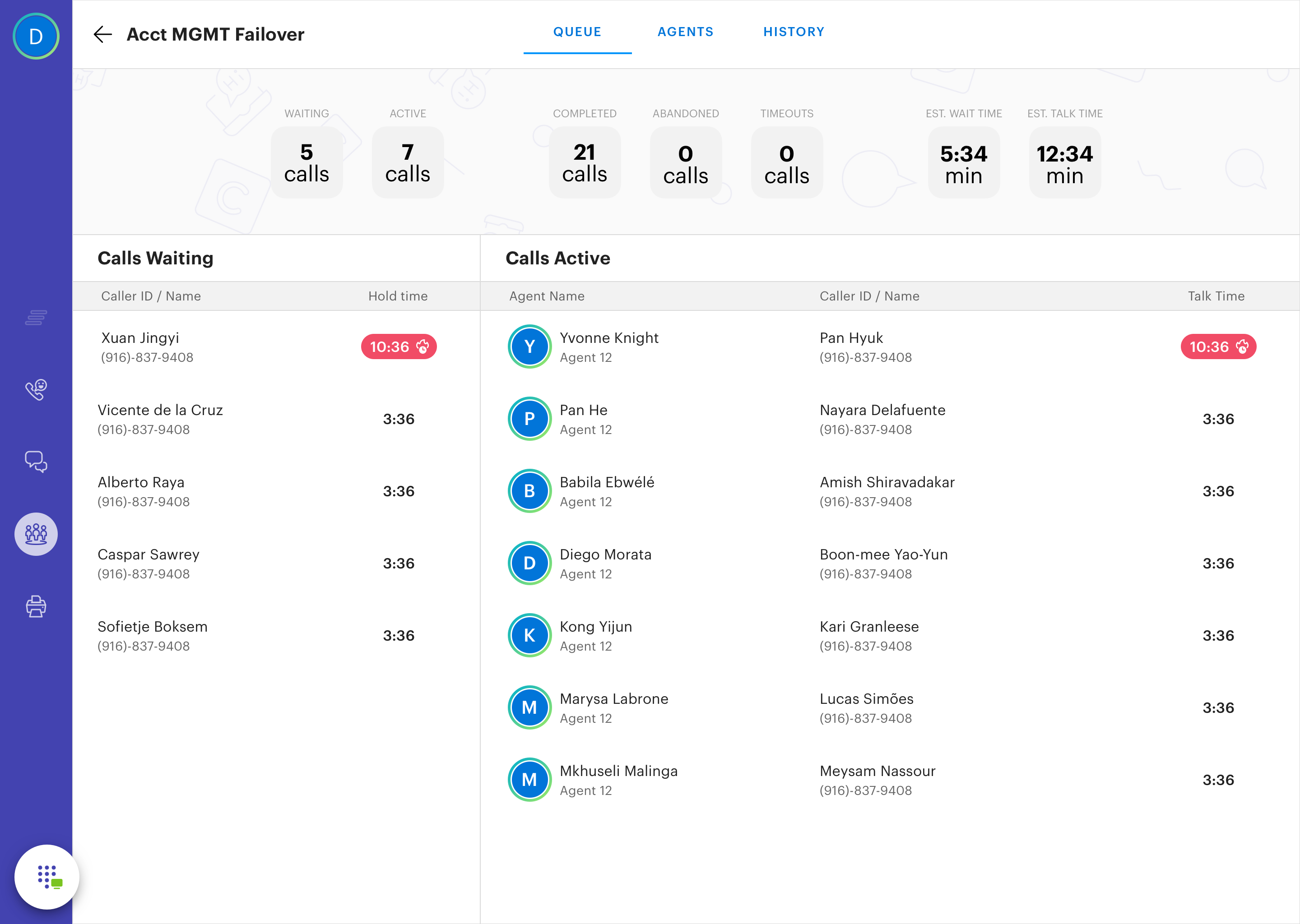 Faxing
Click on the fax icon to initiate a fax or view fax history. You also have an option to include a cover page.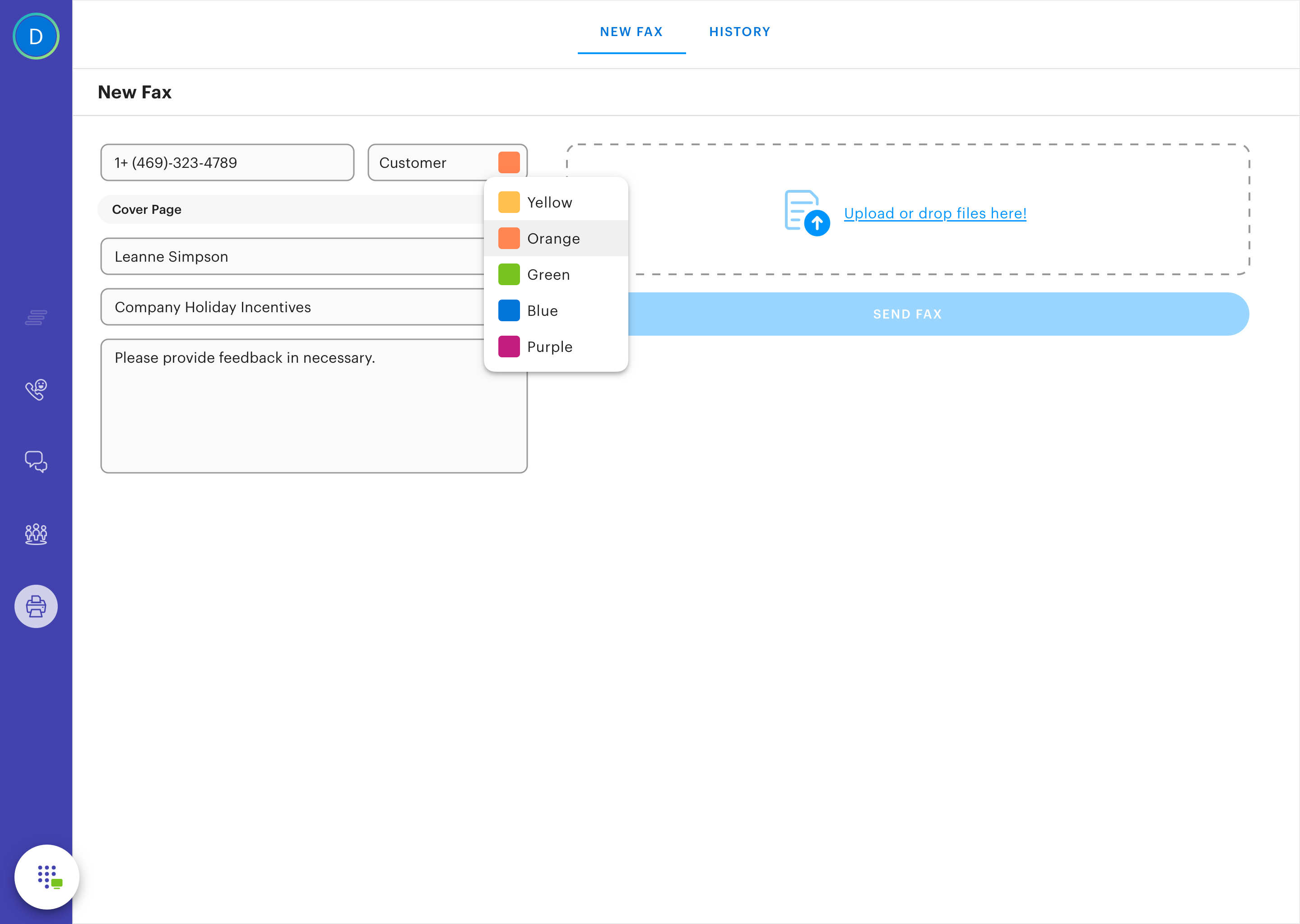 Note: Greyed out options throughout Desktop are features that will be available in upcoming releases.