Each extension is routed through Cytracom's PBX. Calls can be routed in many ways based on the configuration of each extension in the PBX. User rights are determined by a System Administrator; therefore, some users may not be able to change their extension's settings without the help of a System Administrator.
The PBX will list all extensions of an account.
Creating an Extension:
In the PBX, click the Extensions tab on the menu bar.
Click + New. (If this button does not work, all of the available extensions may be in use. Please contact our Account Management department for further assistance.)
Assign a 2-6 digit extension number for the new user.
Name the extension with the person's first and last name.
Select a phone number under the Outgoing Caller ID to be used as the outbound caller ID for this extension.
Under the E911 Location, select the location for this extension.
Define routing options under the Call Routing tab.

Designate the Try First route for a call.
The If Busy option will only be triggered if the call is rejected by pressing Reject on the device or if Do Not Disturb (DND) is enabled.
If Not Answered will route calls to the option chosen.
If Offline defines the route of a call if there is a problem with the phone's registration, the internet is not working, the power is out, or the phone has come unplugged.

OPTIONAL - Find Me tab under Call Routing:
Note:  The Find Me setting is available to allow a user to receive calls on their personal device without giving out their personal number. If a Find Me call goes unanswered, the call is pulled back to the PBX so a voicemail can be left on the system instead of on a personal device. The user will have the options to accept the incoming call (by pressing 1) or reject the call (by pressing 2).
Select the Route Type (up to 5).
All routes will ring at once if Blast Calls is enabled.
Select if the caller should record their name to be announced.
Choose the number of rings for each route.
Route the unanswered call to a mailbox.

Click Submit.
Other Configurations
SIP Config
The SIP Config tab provides the SIP Username and SIP password needed to register a SIP device or a softphone.
Click on the SIP Config tab to retrieve the SIP Username and SIP Password.
Advanced
The monitored mailboxes are set up under this tab. This indicates which mailbox(es) this message indicator light blinks for. The extensions mailbox is monitored by default. More than one mailbox can be monitored at one time.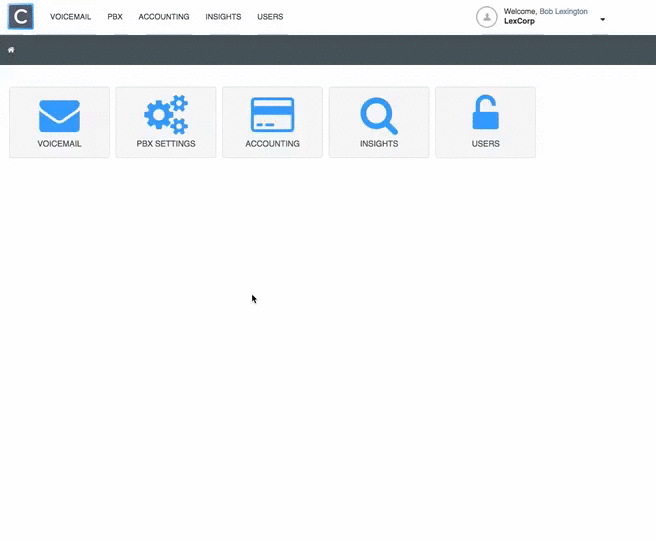 Note: The number of registered devices is limited to either 2 devices or 1 device and a single 3rd Party soft-phone app. The Cytracom Mobile App is not included in this limitation and does not affect registered devices.
Feel free to submit a help ticket by emailing support@cytracom.com if you have any questions.