BLF, or Busy Lamp Field, keys indicate the activity of the extension it is monitoring. The chart below indicates the status in different scenarios:
Monitored Extension Behavior
BLF Indicator Status

Extension Board Key Status

(On Mounted Extension Board)

Idle
Solid green
Solid green
Placing a call
Solid red
Solid red
Receiving a call
Blinking red
Blinking red
During a call
Solid red
Solid red
Hold the call
Solid red
Solid red
Monitored extension not registered/BLF subscription failed
Off
Off
These keys are typically programmed in the system and then downloaded to the phone via HTTP. To do this, log into the portal at secure.cytracom.net:
Navigate to PBX, then the Devices tab.
Click on the name (often the extension number) or the options button on the line of the phone you'd like to edit.
Scroll down to the "Multi-Purpose Keys" section.
On the line for the key to be programmed, set the type to Busy Lamp Field.
Set the Account to Account 1.
Enter a description, usually the name of the person at the target extension.
Enter the extension number in the Value field.
The pattern for the Multi-Purpose Keys is shown below: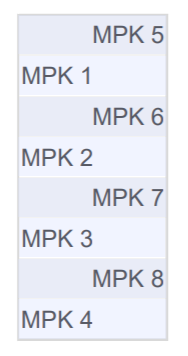 Continue to program the other BLF keys in the same manner. Modes other than BLF keys are available such as speed dial. Simply choose from the drop-down menu under Type. For Speed Dial, enter the full phone number without any spaces or characters in the value.
Once the keys have been set up as desired, submit the changes, and reboot the phone. As long as the phone is still set for HTTP and this is allowed by the firewall, the phone will automatically download the key changes as it boots.
Note: If trying to configure BLF keys for a GXP2140, submit a ticket to support@cytracom.com or click here for more information. This model is configured differently.